As I was helping a friend and giving advice on how to decorate their home, it suddenly occurred to me that the coffee tables of most parents with young kids are either non-existent or barely there. Of course it's not very practical to put little decorative items, even breakable stuff just within reach of toddlers. The solution? Trays. They are affordable and as versatile as can be. Place them on that coffee table when entertaining & take them out when the kiddos are roaming. Also, I've always been a fan of oversized ottomans as coffee tables and the only way to decorate this space and be functional and uncluttered at the same time are, yes, with trays again. Here are 10 Designs, 10 ways to style that coffee table tray:
Python trays [or Crocodile or Zebra or Leopard print] dressed with a coral is perfect as a valet tray as well.
Chevron or any geometric pattern for that matter.
Lacquered styled with books, vases & candle holders.
Metal & Vintage.
Not all trays are made with four corners, circular works as well especially if it's an Hermes.

 

 

 
In Rattan or anything organic or nature-inspired.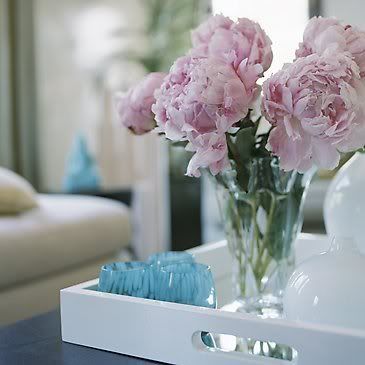 Simply white is a no-fail strategy.
Mirrored with shiny details exude Hollywood Glam.
And finally, a dash of neon is very Summer-inspired.
You can even change them by the season or by the event! DIY them, scour the flea markets, shop online or your local gift shops…they're everywhere. So, style that coffee table & enjoy!
Visit my shop at http://www.theinglenookdecor.com