It used to be the case that interior design inspiration for those redecorating their homes came straight from the pages of magazines like Elle Décor, but these days, there's a new source of inspiration, and the best part is that it's free.
Pinterest is an online pin board that allows users to collate inspirational images of just about anything. The home décor section is always brimming with clever ideas and tutorials, but it seems that Pinterest is starting to develop some interior design trends of its own. The term Pinterest-worthy has become synonymous with something that's ideal or perfect, so we've rounded up some of Pinterest's most covetable interior design trends.
1. 50 Shades of Grey
Perhaps last summer's literary craze has subconsciously affected interior design preferences of Pinterest users, or maybe grey is simply the new magnolia. Either way, grey color schemes seem to be a firm favorite amongst pinners. In the bedroom, soft greys are paired with crisp white bed linen and light fabrics, whilst in the entryway, grey walls work amazingly well alongside glossy black interior doors.
2. Pops of Neon Pastels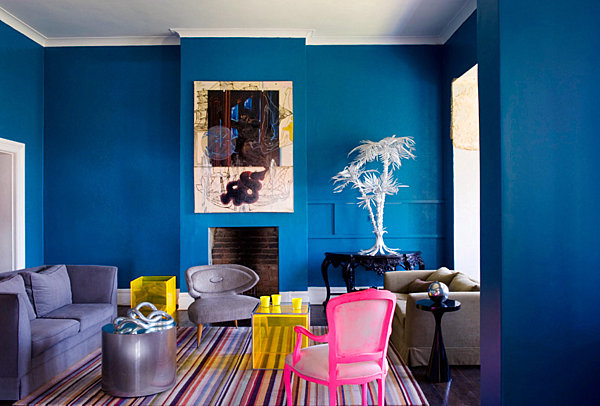 White, stark rooms with pops of bright color are also a huge Pinterest-inspired interior design trend at the moment. Turquoise, pink and yellow in almost-neon tones are all particularly popular, and can look really effective when incorporated into a room's design with lampshades, storage boxes, rugs or scatter cushions.
3. Well-Dressed Beds
The idea of having the bed as the focal point in a bedroom is really nothing new, but it seems Pinterest has popularised the well-dressed bed lately. Think mountains of precisely positioned scatter cushions and a perfectly coordinated color palette all arranged on a huge, bespoke bed like the ones from And So To Bed.
4. The Many Uses of Mason Jars
The humble Mason jar has become a cult household must-have for Pinterest enthusiasts, and on a daily basis a new and innovative way of using these little glass jars pops up on the home décor feed. From tea light holders to decorative vases to something to serve up your sundaes in, the uses of the Mason jar are endless. If you don't understand what all the fuss is about, then check out these 22 innovative uses. From the looks of pinned images, Mason jar mania is not dead.
When incorporated subtly, all of these trends work particularly well in the home. However, having too many Pinterest-inspired trends present in your décor could result in your house looking like a Pinterest cliché, so be careful not to overdo it.
Interior Design in Austin | E-Design everywhere. Contact me.