I came across the 3/50 project before but I've never totally paid attention. Oooooppps , so sorry! Anyway, I came across about it again today in a trade magazine & read the whole flyer. Me,myself has been consciously shopping at independent retailers whether it's fashion or home decor. Aside from a personalized service, the merchandise selection has been edited by the chic boutique owners behind them & yes, i have to use this overused phrase, "the items are definitely unique & one-of-a-kind." Ok, I still shop at some big retailers like West Elm & Crate and Barrel but feel good that I've been following the 3/50 project's rule for quite a while.
Click on the flyer & read on…..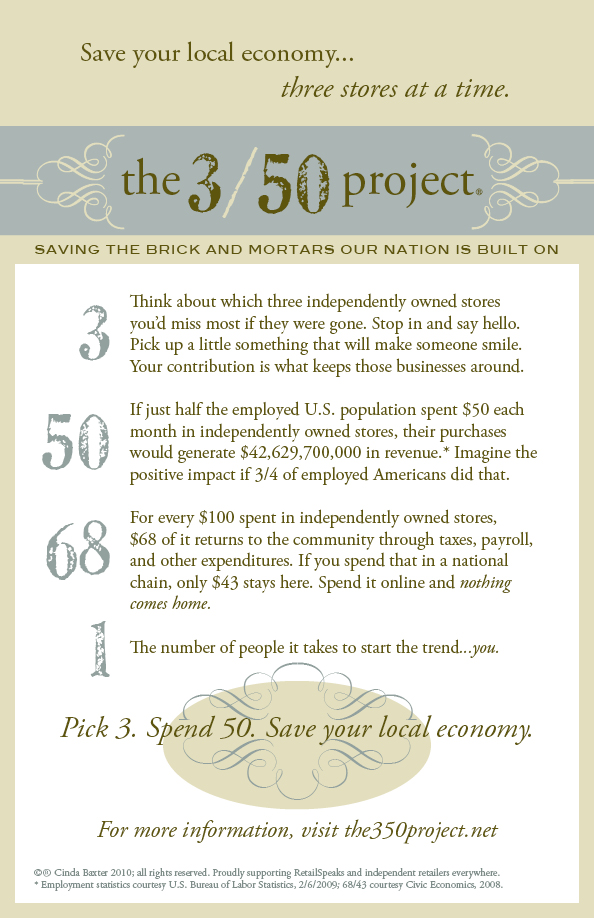 They are definitely right on, it's time to come back toour roots & support our local brick & mortar shops & those mom & pop stores.Here are some independent retailers I've visited & totally adore. If you happen to visit or live in the towns where these are located, please remember to support the 3/50 project.

Willow in Chicago
Mercury Design Studio

in Austin

Maison Luxe

in Seattle
Indulge Decor in Houston




Please visit The 3/50 project at

www.the350project.net

& let us help rebuild this nation, one brick & mortar shop at a time!

Visit my other blog at Smarter

Visit our site: The Inglenook Decor