I am such a sucker for beautiful baths! A gorgeous one is definitely an oasis, check out these covetable loos. Don't look at that dated tile in your bathroom and despair. Look upon it like a blank canvas. There are countless varieties of tile out there available for you to replace it with. What look are you going for? Bold and modern? Or warm and traditional? You can achieve either look with the hottest tile trends in 2014.
1.Metal Tile. Highly reflective, sleek -looking metal tile works great as a backsplash or when used as accent tiles. Stainless steel tile provides a bold modern style while brightening the room. Or choose bronze or copper for a more muted, traditional look. But metal tiles don't have to be shiny and reflective. Earth tones from Dal-Tile's Metal Fusion line offer natural colors in a unique material.
2. Subway Tile. Beveled subway tile is such a classic look, it still remains a popular and stylish choice today. The white tile works great to soften neighboring bold colors or tile mosaics, and provides a clean look when used for an entire surface. For easier installation, look for larger tiles designed to appear as several smaller tiles.  Map out your budget and then decide what kind of subway tile to spring for, as cost runs the gamut from budget-friendly to high-end professional grade.
3. Glass Tile. Using glass tiles for accent tiles or walls and counters adds a certain dimension that more traditional ceramic or natural stone tiles just can't compete with. The translucence of the glass adds depth to any room immediately, whether they are used in small patterns in conjunction with other types of tile, or when used for an entire wall. Most glass tiles are made from recycled glass and are available in a wide range of colors.
4. Pattern Tile. Achieving a vintage look with pattern tile is another great look for 2014, especially pattern tiles that imitate encaustic tiles – Check out ABL Bath & Tile for new patterns very soon. Faded ceramic tiles the mimic the soft look of encaustic tiles used in Europe can help you recreate this style. Nature-inspired pattern tiles are also a great way to add single accent tiles or a larger panel of tiles to break up a monotone wall color.
5. Mosaic Tile. A cousin to the pattern tile, mosaic tiles can create a classic style for your bathroom. The trick is to use the mosaic tiles sparingly when going for an overall simple design with a bit of flair here and there. Or, if bold colors and patterns are more to your taste, go all out with some of the more vibrant mosaics designed to cover larger surfaces.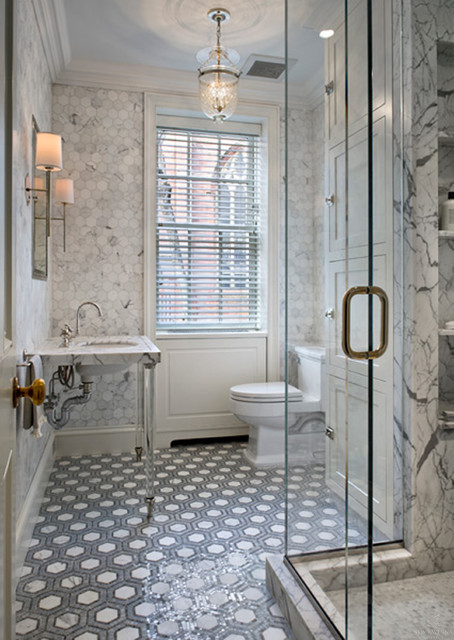 6. Wood tile. Ceramic and porcelain tile designed with a wood grain texture have been on the market for several years now, and seems to be only gaining momentum. Wood tile is available in a near limitless variety of colors and installation options, such as long planks or parquet. Wood tile is actually more cost-effective than some hardwood floor options, and it's much easier to take care of.
Whatever look you're going for…there's a tile for that! Nowadays, it's all about options right?
Do you have a Design question or dilemma? Drop me a line and I'll answer them for free {and absolutely no strings attached!}. Click here >>>